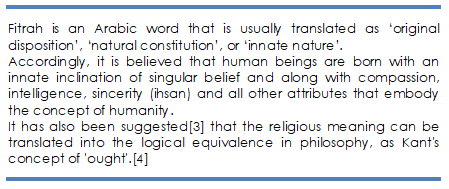 This introduction to reading will investigate:
innate nature and personality
brain development
brain structure
Early Childhood Development (ECD)
فطرة – Fitra" or "fitrah" (Arabic), is the state of purity and innocence and a natural disposition
Many of these traits can be observed in young children.
Children are often referred to as innocent – meaning they are naive, harmless, guiltless or blameless etc. So how and when do any changes in their natural disposition occur? These changes occur after exposure.
Now we may ask:
Are all children not the same?
A child is a composite human being, inheriting characteristics from the mother, father and some features that are unique to itself. Then these characteristics are manipulated through exposure. This exposure occurs prenatal and after birth.
Ihsan[i] meaning "to do beautiful things" It is a matter of taking one's inner faith and showing it in both deed and action, a sense of social responsibility borne from religious convictions.
Development of the brain
| | | |
| --- | --- | --- |
| Month One | Month Two | Month Three |
| Neural tube | brain cell & cerebral cortex | brain functions |
Let Us Look at the Brain Development by Month
| month | |
| --- | --- |
| 1 | Just 16 days after fertilization, an embryo forms the neural tube. The neural tube is the earliest nervous system tissue which develops into the brain and the spinal cord. |
| 2 | During the second month this neural tube begins to differentiate into brain cells and nerve cells. The brain cells transform into recognizable brain structures. The most notable is the outer layer called the cerebral cortex. |
| 3 | By the third month the embryo display reflexes and also reacts to its environment. |
| 4 | At the end of the first trimester, hormones are released that will determine whether development will continue to occur as male or female. |
| 5 | By the fifth month, the foetus is learning to control its reactions to these sensory sensations and to control its movement. |
| 6 | By six months the brain becomes fully developed. Even though the brain has not reached its full size, most of the neurons (nerve cell) within the central nervous system are present. These nerve cells conduct electrical impulses (i.e. send messages).Significantly it is during this period that the foetus begins to prepare itself for the outside world. The foetus can experience sensory sensations such as sound, taste, and smells. The ability to consciously react to sensory sensations becomes even stronger during the sixth month. During the sixth month, another major mark of brain development occurs; the cerebral cortex splits into two separate hemispheres. Some researchers believe that, at this stage, the foetus develops the ability to remember. |


At birth 80 percent of the brain is developed and consist of 100 billion neurons or brain cells.
This means that during every minute of the pregnancy period at least 250,000 brain cells are created!
Because of this rapid pace of development, proper prenatal care is essential to the development of an unborn child's brain.
During this process i.e. during the prenatal and postnatal, the child is being prepared for the world around it and evidently the child will be what the parent exposes it to.
Early Childhood Development
ECD is the net result of ongoing interactions between biology of children and environments
The early years are critical, because this is the period in life when the brain develops most rapidly and has a high capacity for change, and the foundation is laid for health and wellbeing throughout life.
Nurturing-care means,
care is provided in a stable environment,
being sensitive to children's health and nutritional needs,
providing protection from threats,
providing opportunities for early learning, and interactions that are responsive, emotionally supportive and developmentally stimulating.
We emphasize
stable, responsive, and nurturing caregiving;
safe, supportive, environments;
and protection from violence, neglect and abuse.
This is what is at the heart of children's potential to develop
Why is there so much emphasis on ECD?
From preconception through the formative early years it is essential to safeguard and maximize children's developmental outcomes

---
http://imacademy.co.za/?p=4094
references
[1] recognize and work with the sounds of spoken language
[2] television, tablets and smartphones, etc.
[3] Cognitive – relating to, being, or involving conscious intellectual activity (such as thinking, reasoning, or remembering

---
[i] In Islam, ihsan is the Muslim responsibility to obtain perfection, or excellence, in worship, such that Muslims try to worship God as if they see him, and although they cannot see him, they undoubtedly believe that He is constantly watching over them. That definition comes from the Hadith of Gabriel in which Muhammad states, "[Ihsan is] to worship God as though you see Him, and if you cannot see Him, then indeed He sees you". (Al-Bukhari and Al-Muslim)
[ii] https://dyslexiaida.org/how-can-we-ensure-that-every-child-will-learn-to-read-the-need-for-a-global-neurodevelopmental-perspective/
[iii] In 2012 in the Proceedings of the National Academy of Sciences, neuroscientists at Stanford University reported that
study.com/academy/lesson/prenatal-stages-of-brain-development.html