Dear Parent
Reading is an ongoing process.
THE NAMES AND THE SOUND THAT EACH LETTER MAKES
The First step is to teach a child the letters of the alphabet
Listen to the 42 letter sounds of Jolly Phonics, spoken in British English. Each letter sound is clearly spoken twice, before an example word is given.
The International Phonetic Alphabet (IPA) symbols. This is a useful skill for learners and teachers of English who may want to check the pronunciation of a word in a dictionary. Use the phonetic chart to learn the sounds of English. Then do a quiz to see how well you have learnt them
Other useful resources
THE NAMES
Proficiency at reading is only reached through regular reading.
Reading starts at home. The first step is to hear the spoken word. This is followed by 'Telling Stories'
Why should children be telling stories?
Early Years professionals are reporting that a growing number of children are entering Reception with poor language skills. This is holding back their progress in literacy.
These children
may come from disadvantaged backgrounds or
may have English as an additional language.
Some may have a language disability.
Studies show that children with poor language are at a disadvantage when they learn to read.
We should also be telling stories so that children develop knowledge of different genres (kinds) of narrative and a love of reading and books.
Learning to tell a story develops the child's communication skills and confidence. Read to your child
We all know reading to our kids is a good thing
Advantages your toddler or preschool-age child can receive by being exposed to the merits of reading? [i]
A stronger relationship with you. As your child grows older, he'll be on the move—playing, running, and constantly exploring his environment. Snuggling up with a book lets the two of you slow down and recaptures that sweet, cuddly time you enjoyed when he was a baby. Instead of being seen as a chore or a task, reading will become a nurturing activity that will bring the two of you closer together.
Academic excellence. One of the primary benefits of reading to toddlers and preschoolers is a higher aptitude for learning in general. Numerous studies have shown that students who are exposed to reading before preschool are more likely to do well in all facets of formal education. After all, if a student struggles to put together words and sentences, how can he be expected to grasp the math, science, and social concepts he'll be presented with when he begins elementary school?
Basic speech skills. Throughout toddlerhood and preschool, your child is learning critical language and enunciation skills. By listening to you read One Fish Two Fish Red Fish Blue Fish, your child is reinforcing the basic sounds that form language. (you can find a transcript of the book here)
"Pretend reading"—when a toddler pages through a book with squeals and jabbers of delight—is a very important pre-literacy activity. As a preschooler, your child will likely begin sounding out words on his own.
The basics of how to read a book. Children aren't born with an innate knowledge that text is read from left to right, or that the words on a page are separate from the images. Essential pre-reading skills like these are among the major benefits of early reading.
Better communication skills. When you spend time reading to toddlers, they'll be much more likely to express themselves and relate to others in a healthy way. By witnessing the interactions between the characters in the books you read, as well as the contact with you during story time, your child is gaining valuable communication skills.
Mastery of language. Early reading for toddlers has been linked to a better grasp of the fundamentals of language as they approach school age.
More logical thinking skills. Another illustration of the importance of reading to children is their ability to grasp abstract concepts, apply logic in various scenarios, recognize cause and effect, and utilize good judgment. As your toddler or preschooler begins to relate the scenarios in books to what's happening in his own world, he'll become more excited about the stories you share.
Acclimation to new experiences. As your child approaches a major developmental milestone or a potentially stressful experience, sharing a relevant story is a great way to help ease the transition. For instance, if your little one is nervous about starting preschool, reading a story dealing with this topic shows her that her anxiety is normal.
Enhanced concentration and discipline. Toddlers may initially squirm and become distracted during story time, but eventually they'll learn to stay put for the duration of the book. Along with reading comprehension comes a stronger self-discipline, longer attention span, and better memory retention, all of which will serve your child well when she enters school.
The knowledge that reading is fun! Early reading for toddlers helps them view books as an indulgence, not a chore. Kids who are exposed to reading are much more likely to choose books over video games, television, and other forms of entertainment as they grow older.
Books have the power to benefit toddlers and preschoolers in a myriad of ways. As a parent, reading to your child is one of the most important things you can do to prepare him with a foundation for academic excellence.
NONSENSE WORDS
http://www.speech-language-development.com/nonsense-words.html
­­­­­­­­­­­­­­­­­­­­­_______________________
So, what exactly is phonics?
Words are made up from small units of sound called phonemes.
Phonics teaches children to be able to listen carefully and identify the phonemes that make up each word. This helps children to learn to read words and to spell words
In phonics lessons children are taught three main things:
GPCs
They are taught GPCs. This stands for grapheme phoneme correspondences. This simply means that they are taught all the phonemes in the English language and ways of writing them down. These sounds are taught in a particular order. The first sounds to be taught are s, a, t, p.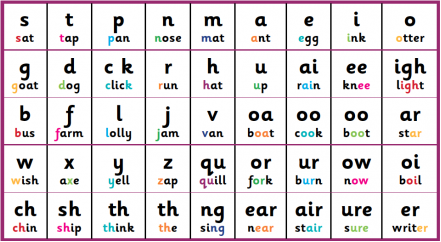 ---
Blending
Children are taught to be able to blend. This is when children say the sounds that make up a word and are able to merge the sounds together until they can hear what the word is. This skill is vital in learning to read.
Segmenting
Children are also taught to segment. This is the opposite of blending. Children are able to say a word and then break it up into the phonemes that make it up. This skill is vital in being able to spell words.
At School
When your child is enrolled at school, we assume that the child has no or very little exposure to reading.
We commence by teaching the child the alphabet. Those who have had exposure learn the letters very fast.
The name of the letters of the alphabet
Here you can find the alphabet song:
The sounds that letters make
Next we learn the sounds that the letters make or phonics.
It is only after the child is familiar with the sounds that the letter make that he/ she learns to string them together to build words. The first words that we learn are called CVC words. These are short, three letter words: e.g. consonant/verb/consonant, words
Bat cat mat sat
Pot cot rot
And finally the child learns to string these words together to form short simple sentences.
The cat sat on the mat.
The pot is a hat
Some of the words used in sentence building are called sight words. These are not words taught by sounding but they are words taken from the child's vocabulary at are taught to the child by sight .
words like: The, and, blue, etc. are typical sight words
Remedial
What should I do if my child is struggling to decode a word?
Say each sound in the word from left to right.
Blend the sounds by pointing to each letter, i.e. /b/ in bat, or letter group, i.e. /igh/ in sigh, as you say the sound, then run your finger under the whole word as you say it.
Talk about the meaning if your child does not understand the word they have read.
Work at your child's pace.
Always be positive and give lots of praise and encouragement.
[i]http://www.scilearn.com/blog/why-you-should-read-with-your-child